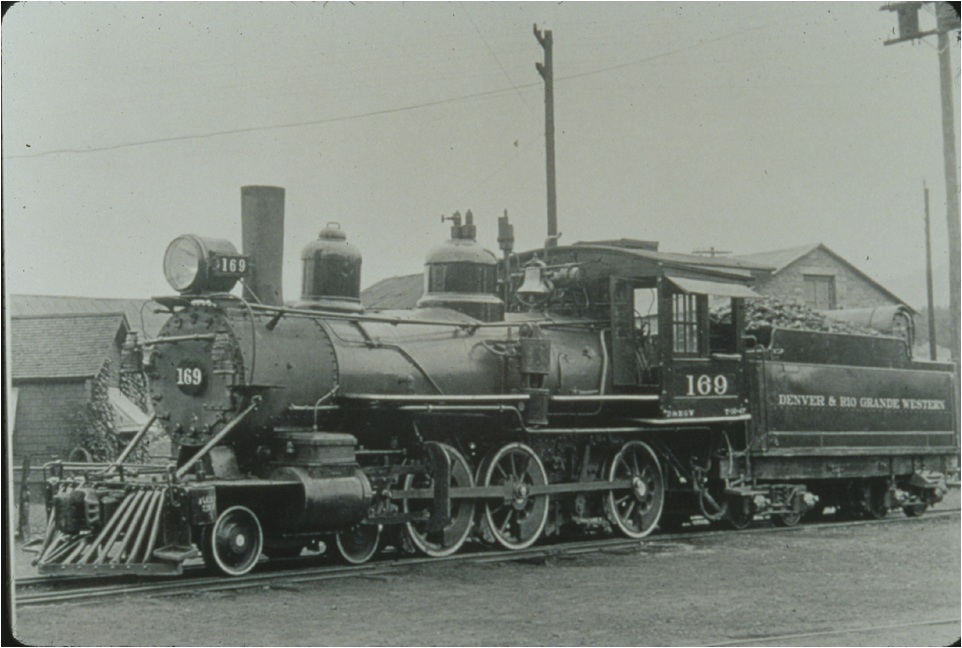 Locomotive 169 as the Durango switcher
The 169 was part of an order for twelve ten-wheeler locomotives from the Baldwin Locomotive Works and was built in April of 1883. When delivered to the Denver and Rio Grande, she was the largest and most modern motive power on the railroad.
The 169 served all over the system spending most of its time on the Third and Fourth divisions.  She is shown on our title slide heading up the "Chile Line" train.  She also served as the primary motive power on the Shavano train between Gunnison and Montrose CO in later years.  Of her class, she and the 168 in Colorado Springs, CO are the only survivors.
The 169 has had a colorful history.  She was involved in three fatal wrecks and has the reputation as a "jinxed" locomotive.  Some people will not work on her for that reason.
The 169 was stored in the "dead line" in Alamosa, CO in 1938.  She was removed from the dead line to be cosmetically restored for display at the 1939 New York World's Fair.  After display at the Fair, she was returned to Colorado and given to the City of Alamosa in 1941.  In the 1960's she was given to the Alamosa Chamber of Commerce who continues to own her.